This is the best name of a town I've ever heard... Ever...
Do you think this is a joke? WELL IT'S NOT! SAINT-LOUIS-DU-HA! HA!, QUEBEC! The exclamation points are in the name!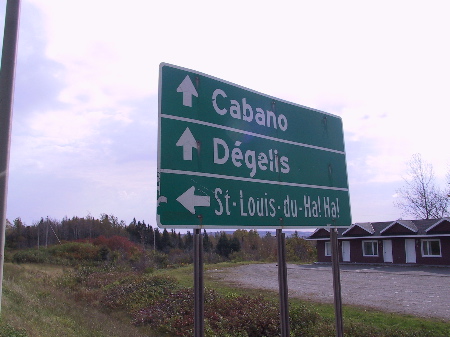 This kicks the doodie out of:
-High Level, Alberta
-The Pas, Manitoba
-Moose Jaw, Saskatchewan
-Medicine Hat, Alberta
-Swastika, Ontario & New York
-Intercourse, Pennsylvania
and EVEN:
-Dildo, Newfoundland and Labrador
-Head-Smashed-In Buffalo Jump, Alberta
Think about it... THIS TOWN HAS AN EXCLAMATION POINT IN IT! It is a life goal for me to visit it. Someday, I will visit Gaspe, Quebec:
and I will stop in St-Louis-du-Ha! Ha! on the way!!!
Wikipedia
www.saintlouisduhaha.com
(in French only)
Btw, if you think I'm insane, I COULDN'T CARE LESS!!! I should go to bed... w00t!
Current Mood:
DU HA! HA!
Current Music: The End is Begin by 3